Baby Massage Classes Nottingham
How Can Baby Massage Help My Baby?
Baby massage classes Nottingham are suitable for babies from 4 weeks old. Come and learn how to safely and effectively massage your baby using gentle massage techniques taught to you by Sharon Cooper. Sharon Cooper is a qualified baby massage therapist in Nottingham, and qualified nursery nurse who has worked with families and children in a variety of settings for a number of years. Sharon teaches parents like you, how to use massage techniques that will enable you to massage your baby at home.
Sometimes your baby can suddenly experience problems and become unsettled and sometimes your baby can be unsettled from birth for a number of reasons. Digestive problems such as constipation, wind, reflux and colic are common problems that can leave your baby feeling distressed and unsettled. Problems such as this can also affect their sleep.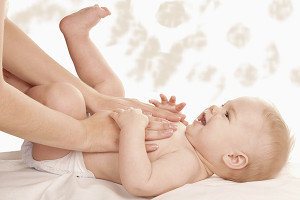 Baby massage classes Nottingham are run over a period of 4 weeks in a small friendly and supportive group setting. The classes are kept small to give you a chance to meet and talk with other parents and maybe forge long lasting friendships.
The duration of baby massage classes are around 60 minutes and you will be able to talk about the current problems which your baby may be experiencing, and learn the massage techniques that can help ease the problem.
You will learn how to use different massage techniques on your baby and become competent with massaging different parts of your baby's body, including the face, stomach, legs, back, head and neck. You will also be shown how to use the reflexology points on your baby's feet.
All of this can then be put together to give you the confidence to easily massage your baby at home and continue to help him/her settle and relax.
The Cost Of Baby Massage Classes Nottingham
The cost of a 4 week baby massage class is £32. If you need time at the end of the session to feed your baby, then you can do this. You'll be given a bottle of oil and an instruction leaflet that you can take home. Mats and towels are also provided for you to use in the class.
Location of Baby Massage Classes Nottingham
The class takes place at the Riverside Natural Health Centre on Monday mornings and start at 10.30am finishing at 11.30am. More classes will be arranged as interest grows.
Payment Details
To confirm your place at baby massage classes Nottingham, you will need to make payment in advance. You can make payment by contacting Sharon Cooper via email at:- sharon.cooper83@ntlworld.com
Alternatively you can visit the shopping page www.recooper8therapy.com where you can purchase a voucher for baby massage classes Nottingham.
Free two hour parking is available on the neighbouring Victoria Embankment or nearby streets.