Onsite Corporate Massage Nottingham
Reward Your Employees and Help Improve Their Health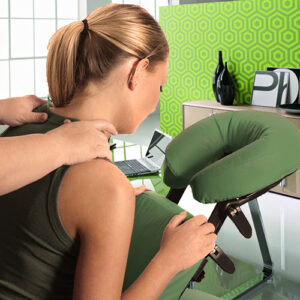 Onsite Corporate Massage is a great way to help reduce stress and tension. Rewarding employees with a Clothed and Seated Chair Massage will revitalise your workforce and help reduce work related stress. This can make a significant impact on improving the health of your workforce.
Physical pain such as back pain, neck pain and shoulder pain are all symptoms of strain. A high number of employees take sick leave due to these types of problems. Providing Onsite Corporate Massage sessions for employees can help reduce sickness levels and generally improve their health and wellbeing. As an added benefit your staff will enjoy this healthy rewarding gift from you.


How Do Frequent Onsite Massage Treatments Improve Health?
Help reduce stress and tension
Used as an education tool to prevent future illness
Help re-balance the natural fight and flight response
Improve overall wellness
Reduce depression by increasing feel good hormones
Remove toxins
Boost immune system
Reduce aches and pains
Regular massage has a positive and beneficial impact on the health and wellbeing of your employees. As part of our education and in addition to receiving our massages, we also provide individual information about how they can reduce problems occurring and re-occurring.

How Onsite Corporate Massages Work
The frequency of our visits and the number of therapists you require can be calculated by the number of staff you would like to receive a massage. Each therapist can see 3 employees in a one hour treatment session.
We don't want to rush your massage. We like to create a calming place where your staff can relax and receive the full benefit from their treatment. It also allows your employee to ask any questions they may want to ask. It also gives us time to offer advice on how to manage a health issue better.
What Happens on Your Massage Day?
Our massage therapists will arrive in plenty of time with everything they need to create a a relaxing environment in a pre-designated space. This will help to enhance your employee massage experience.
Employee Consultation
Before each massage begins, the massage therapist will ask the employee about any health issues they have or areas of tension that they would like to work on. This is carried out discreetly as is the massage itself. The employee does not have to remove any item of clothing as massage oils will not be used.
Massage Rates
Please contact us for a no obligation free quote to discuss your needs with your chosen health representative. This is normally your employee health champion or human resource person.
If it helps we can email you the outline of the discussion so that you are clear and happy with the arrangements. This will include forms for your employees to book their appointment.
We charge a simple hourly rate with no minimum term, no administration charges and no contracts or hidden costs
We can also provide a health reward scheme for your staff to help encourage them to continue to look after their health. Take a look at our Health Reward Scheme page here
Still looking for help? Call us on 0115 9864 990 or Contact Us online