Reflexology Nottingham
What is Reflexology?
Reflexology Nottingham is a non-intrusive massage therapy used to relieve tension and treat illness Reflexology is based on the theory that there are reflex points on the feet, hands, and head that map via the nervous system to corresponding parts of the body. The feet are seen as a map by reflexologists. Using specialised massage techniques using their thumbs, fingers or knuckles they can work on the reflex points of your feet to help correct imbalances throughout your body.
Anyone can enjoy a reflexology treatment it's suitable for most adults, children and babies. John, a patient that has benefitted from Reflexology Nottingham, was so happy with the results, he wanted to share his story 
Can Reflexology Help My Condition?
Reflexology Nottingham can help with lots of health conditions. Here are some of the conditions that can benefit from Reflexology treatment.
Menopause, Fertility, Pregnancy, Digestive Problems, Sleep Disorders, Pain Relief, Hormonal Imbalance, PMT and Headaches to name a few. The treatment is not invasive and most people drift into a deep relaxation.
What happens during a reflexology treatment?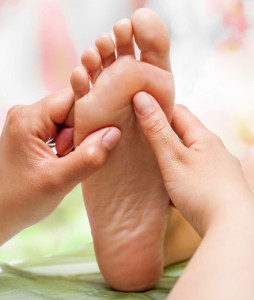 When you book a Reflexology treatment at the Riverside Natural Health Centre in Nottingham, the reflexologist will begin with a consultation. This helps the reflexologist gauge whether the treatment is suitable for you and enables them to create a personalised reflexology treatment plan. Occasionally your GP's permission may be needed as a precaution before treatments can begin, especially if you have diabetes.
Each reflexology treatment lasts about an hour. It's just your feet that are normally worked on although your hands also replicate areas of your body so they can be worked on instead of your feet if you prefer.
You remain fully clothed, you just need to remove your foot wear. Don't worry about the look or smell of your feet Nottingham reflexologists love all types of feet!
There is no set number of treatments for any one condition as everyone is different. As a guideline treatments can be from 1 – 6 depending on the problem and how long you've had the problem for. You should start to feel the benefits during this time frame.
Reflexology also helps with chronic illness and is an excellent therapy for cancer patients and patients with terminal illness. It can help them to relax, cope better with the side effects of treatment and get a better night's sleep.
Nottingham Reflexologists
Sue Hale and Sharon Cooper are reflexologists in Nottingham who have an extensive knowledge of reflexology therapy, and have worked on many people for lots of different reasons. Sue Hale is a member of CNHC Complementary and Natural Healthcare Council. Sharon Cooper is a member of CThA Complementary Therapist Association.
If you have a health care policy, reflexology Nottingham may be listed. Check your policy for more information or call us if you have any questions.
Reflexology Treatment £45, 60 minute treatment
Member of CNHC Complementary and Natural Healthcare Council
Member of CThA Complementary Therapist Association
Ask about discounted treatments when making your appointment
Call us on 0115 9864 990 or Contact Us online