Acupuncture for Male Infertility
Male Fertility Acupuncture in Nottingham
Acupuncture for Male Infertility is available at The Riverside Natural Health Centre in Nottingham. The in-house acupuncturist, Sarah Stanley BSC (Hons) is fully qualified in acupuncture and already runs a successful Acupuncture clinic in Lincoln and surrounding areas.
What is Acupuncture for Male Infertility?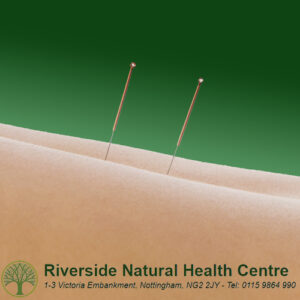 The clinical definition of male infertility is the presence of abnormal semen parameters in the male partner of a couple who are unable to conceive after 1 year of unprotected intercourse. (Dohle 2010).
Acupuncture for Male Infertility can assist in helping to increase male fertility by reducing stress, benefiting sperm motility (movement), and lessen the chance of abnormal sperm. It can also help to increase the blood flow to the testicular artery. You may require diet and lifestyle changes as that can also help increase your chances of conceiving.
When a sperm count is below a normal level, acupuncture may help to increase the levels. This could also aid conception and also benefit the process of IVF. Ideally both partners would need a treatment to gain the full benefits of acupuncture for IVF assisted reproduction or natural conception. Statistics reveal the number one cause for having IVF assisted reproduction in the UK is due to male infertility symptoms.This is often overlooked. Acupuncture along with lifestyle changes, diet and advice on supplements are integrated into our treatments. It's important to remember that it takes two to make a baby!
Inserting Acupuncture Needles
Fine needles are inserted into the lower abdomen, feet, ankles, lower legs, back or head. Inserted gently, the needles sit just beneath the skin. Once in place, these needles are gently manipulated to stimulate the acupuncture point. The needles are retained without pain for around 20-25 minutes. Most male patients fall asleep as they become very relaxed.
What is the Best Time to Begin Treatments?
Ideally, acupuncture for male fertility should commence approximately 3 months prior to any fertility treatment. If you are trying to conceive naturally and for IVF assisted reproduction then a similar time frame will apply. This will give a better chance for the acupuncture to work before the initial semen analysis.
The Riverside provide acupuncture treatment for men whose female partners have already started their IVF process. We have seen positive results on improved sperm quality and mobility, even though their acupuncture treatments started 5 weeks before giving their sperm sample.
How Many Acupuncture Treatments Will I Need for Infertility?
To help improve sperm quality with the full benefits of acupuncture, weekly or fortnightly treatments should be taken over a three month period. Prior to starting treatment, a sperm analysis test is particularly useful because each patient is different.
Nottingham acupuncturist Sarah Stanley, Bsc (Hons) Acupuncture and Traditional Chinese Medicine is a member of the British Acupuncture Council. In addition to that, Sarah has a special interest in treating male infertility issues and is very knowledgeable on the treatment and the subject.
Qualified in Acupuncture for Male Infertility
Sarah Stanley is the fertility acupuncturist at the Riverside Natural Health Centre in Nottingham..A Member of the British Acupuncture Council, Sarah focuses on treating infertility with acupuncture.
Read More about Acupuncture for Infertility.
Need more help with Acupuncture for Male Infertility in Nottingham?
Telephone: 0115 9864 990 or Contact Us Online
Male Infertility Acupuncture: first treatment one hour and includes full consultation £45
Subsequent Treatments: One hour £45 or 30 minutes £25
Do you have a health care policy? Acupuncture may be listed. Call us today
Call us on 0115 9864 990 or Contact Us online
Book an appointment today
If you're interested in booking a treatment with us you can do so with ease by clicking the button below.
The information in this article is intended for educational purposes only and is not intended to Cure, Diagnose, or Treat any specific illness and/or condition. Please contact a healthcare professional or our staff if you have any concerns.