Fertility Acupuncture Price List
Prices for Fertility Acupuncture Treatment in Nottingham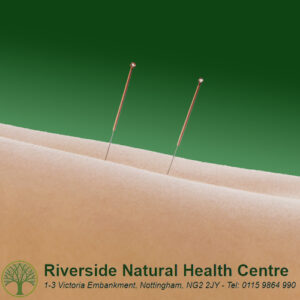 Natural Fertility Acupuncture Non Assisted IVF Package
A two to three month course of acupuncture treatments to assist cycle regulation may be required. This will assist in the following areas:- reduce any pain, improve and regulate blood flow to the uterus, reduce breast tenderness and any accompanying PMT symptoms.
Basal temperature charts (BBT) recommended blood and thyroid checks as well as advice on diet and supplements are also discussed. Lifestyle changes, exercise, techniques to help reduce stress and anxiety are also integral parts of fertility acupuncture treatments at the Riverside.
Fertility Acupuncture
Acupuncture for Female Infertility – Natural, IUI and IVF
All appointments are £45 Including full consultation and acupuncture treatment
Please note: We have a discounted fertility packages available
Natural Acupuncture for Male Infertility
All appointments are £45 please enquire before booking.
Please note: We have a discounted fertility packages available
Acupuncture can be used with any type of IVF procedure, we commonly use acupuncture with IVF and ICSI, frozen embryo transfers, donor egg cycles and natural IVF cycles, as well as IUI. The earlier you start alternative therapies to assist with your IVF procedure the better. We recommend a minimum of 12 weeks therapy before as this will give the body plenty of time to adjust.
Read more about Fertility Acupuncture in Nottingham