Hot Stone Massage Nottingham
What is Hot Stone Massage Therapy?
Hot stone massage Nottingham, sometimes known as hot stone massage therapy, is a specialty massage where the therapist uses smooth, heated stones as an extension of their own hands. Hot stone massage Nottingham is an exceptionally relaxing massage where hot stones are placed onto specific points on the body (such as the back, hands, etc.) Heat from basalt stones increases the blood flow and help your muscles to relax. Cold stones can also soothe your body by helping to reduce inflammation.
Hot stone massage Nottingham suits most people as the treatment can be adapted to suit you as with all massages. Sometimes the treatment is not suited to someone who has high blood pressure, skin conditions, diabetes, open wounds, sores or pregnancy
Hot stone massage Nottingham | The Benefits?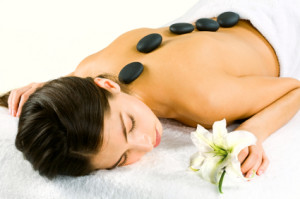 The benefits of hot stone therapy include increased circulation, higher metabolism, reduced muscle tension, increased lymph function, relief from stress and provides a deep sense of relaxation and well-being
Before and after your treatment you are advised to drink plenty of water to help flush away toxins. You should also try to avoid eating a heavy meal or consuming alcohol or smoking for up to 24 hours before your treatment in order to get the most benefit from it.
Hot stone massage Nottingham usually lasts about 45 minutes to one hour. You will be asked to relax on a massage table and a towel will be used to ensure your modesty.  Your Hot stone massage therapist will apply warm, oiled stones in several ways to different areas of your body.
Heated stones are applied to the spinal area, toes and fingers and can also be placed to the top of your body according to the chakra system. These stones will deliver heat to those areas helping to improve the flow of energy in your body.
The Hot stone massage therapist will continue to massage other areas of the body with more hot stones, replacing them as they cool. Cold stones can be applied to muscle injury as they can help soothe and refresh the area creating a cleansing feeling in your body.
After your treatment, your hot stone massage should leave you feeling very relaxed. To get the most from your hot stone massage therapy it's best to allow yourself some down time so that you can continue to enjoy the relaxed feeling.
Have a question? The Riverside is always at hand to offer free help and advice about Hot stone massage Nottingham.
Hot Stone Massage Nottingham £55, 1 hour treatment
Experienced Hot Stone Massage Therapist, Catherine Bee
Membership bodies: Federation of Holistic Therapists (FHT)
Do you have a health care policy? Hot stone massage may be listed. Call us today.
Ask about discounted treatments when making your appointment
Call us on 0115 9864 990 or Contact Us online