One Hour Massage Including FREE Gift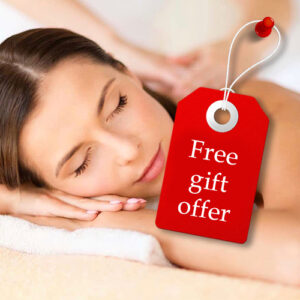 Enjoy a massage in Nottingham and claim your free gift. Massage offers a range of health benefits such as increased energy levels, better blood circulation, and improve overall wellness.
Jenny Williamson is a new member of the massage team here at The Riverside Natural Health Centre. Jenny is a qualified massage therapist who provides a range of massages such as Sports Remedial Massage, Swedish Body Massage and Aromatherapy Massage. For a limited time only, we are offering a free gift when you book a one hour massage ( £45 ) with Jenny. You will receive a free scented aromatherapy candle and invigorating bath bomb absolutely free. This offer is only available for bookings on Wednesdays between 10.00 am and 6.00 pm, during April and May.
Five Reasons Why Massage Can Benefit Your Health
Massage Can Help Lower Your Stress and Tension Levels
Relaxation massage has been proven to help reduce stress and tension in the body. Increasing your circulation through manual pressure enables your blood vessels to dilate. This helps to achieve a lower blood pressure and heart rate. If you're trying to maintain a healthy lifestyle to improve your cardiovascular health, massage is a wonderful addition to your routine. Combining it with healthy eating and regular exercise is an added benefit.
Massage Can Help With Greater Flexibility and Range of Motion
If you are an active person, you want to make sure that your body can keep up with you. Adding massage therapy is a great way to enhance your physical performance, giving your muscles the care they need for added flexibility and range of motion. Top athletes use massage to help with muscle repair and for reducing pain after strenuous exercise. Techniques such as passive and active stretching as well as cross fibre tissue manipulation and fascia release are some of the techniques used to achieve this. The same benefits can be achieved for you regardless of your level of activity.
Improve Your Mental Wellbeing With Massage
Massage therapy can help your body and mind to relax. People who receive regular massage therapy notice an improved sense of well-being and they can feel less anxious and stressed. Many mental health professionals recommend massage therapy to their patients to combat depression and anxiety disorders. Clinical studies have proven that massage increases your feel-good hormones serotonin and dopamine, while reducing the stress hormone cortisol.
Help Boost Your Immune System With Massage
Don't fall victim to ill health even during the summer months. Massage therapy can help to improve your immune system. With the increased circulation and reduction of tension in your body, massage can boost your immune system which can help speed up faster healing. Massage can help increase the number of lymphocytes which are your white blood cells. Their goal is to defend your body from disease. People with asthma, heart disease and many other medical conditions have noticed improvements in their health with a regular massage.
Massage Can Help with Pain Management
Massage therapy can be a way to help reduce or manage it better. Massage can release endorphins from your brain. These are your natural pain-killers in the body. People with arthritis, fibromyalgia, chronic fatigue and many other health issues that cause pain have used massage as part of their health program. A Massage can offer relief from pain both during the massage and for a prolonged period after.
You can view more information about The Benefits of Massage
If you would like to book a massage in Nottingham, or for require help and advice
Call the Riverside Natural Health Centre on 0115 9864 990
Check the details of your health insurance policy, you may be able to claim back the cost of your massage.