NewGen Superfoods Supplements Are Recommended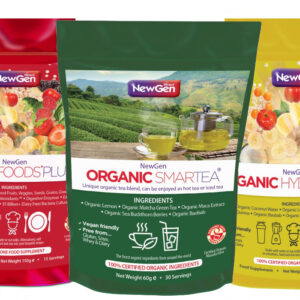 My name is Sue Hayes, the owner of the Riverside Natural Health Centre. A complementary health centre opened to help people find alternative solutions to health issues and also work alongside medical practitioners to complement their treatments. I share my own reasons for using NewGen Superfood Products. 
The Benefits of Superfoods
Superfoods can benefit those who suffer from very low energy levels, increased blood pressure and gut-related problems due to an ongoing personal situation, Newgen organic supplements were and continue to be my line of defence to help prevent future ill-health. Within days of taking the superfood, I began to feel the benefits. The results have been really astonishing. So much so, that I feel confident and compelled to share the benefits of these wonderful organic products with you.
I have used many kinds of supplements of which none seemed to offer much if any improvement. After researching and having a better understanding of supplements, and in particular "white label" supplement products, I came to the conclusion that the labelling of such products left something to be desired. Many products contain bulking and mixing agents as well as synthetic vitamins and sweeteners. Most only concentrated on one particular area, whereas Newgen products work holistically on the whole body to help rebalance the systems within the body. Newgen products are by definition 100% certified organic. This means that all of the ingredients are 100% organic. They are also a recognised member of the Direct Selling Association (DSA). I and many other people are now enjoying a new lease of life gained from the help of Newgen products.
What Makes NewGen Superfoods Unique?
Pre-clinical studies using human liver and pancreatic cells show that the products are effective on a cellular level. One of the pre-clinical studies also shows that the product is capable of stimulating the production of an enzyme called SIRT1, which helps repair DNA damage. The results from these studies and the free radical tests are very impressive. All the scientific papers are available for you to see.
Organic Superfoods with High-Quality Ingredients
These are cutting-edge certified organic superfood supplement products which have been uniquely formulated. People of all ages enjoy NewGen products worldwide. The products are made with a combination of the finest 100% certified organic raw wholefoods. These include fruits, veggies, greens, grasses, seeds, grains, sprouts, protein and fibre.
Value for Money
Retailing at the equivalent of 21p (sterling) per gram. less than the market value by 4 to 6 times. They are remarkable products at a fabulous price. There are over 10 billion dairy-free friendly bacteria, fruit extracts and naturally occurring nutrients including antioxidants. The science behind the products is impressive.
Certified Organic Superfoods
The formulated products are all certified 100% organic and inspected and certified by the Organic Food Federation. The company uses a wide range of certified organic ingredients in their products, including fruits, veggies, seeds, grains, greens, sprouts, grasses, fibre & protein.
Laboratory Tested
Founded in 1997, Brunswick Laboratories is a leader in bioanalytical solutions serving the food, nutraceutical, pharmaceutical and cosmetic industries. Brunswick Laboratories has led the way in quantifying the antioxidant capacity of foods and nutrients, and other health-related substances since 1997. Working closely with the USDA, they have improved and validated a method called ORAC testing and the more comprehensive Total ORAC5.0 testing.
Brunswick Labs' services span from basic botanical testing to biological efficacy evaluation including cellular assays, preclinical studies and clinical study analysis. Brunswick Labs are now recognised internationally by leading health research institutions and companies in the nutraceutical, food, pharmaceutical and cosmetic industries.

How Much Do These Superfoods Cost?
When you consider the benefits, Superfoods are not expensive. Packed with minerals and nutrients that support your body at a cellular level, costing less than a cup of coffee a day!
How Can I Purchase NewGen Superfoods?
Purchase NewGen Superfoods and read about the benefits of Superfoods.  NewGen Products.
I have a question about the product?
We are here to answer your questions. Contact Us at the Riverside.