Nutritional Therapy to Boost Fertility
Are you trying for a baby and considering Nutritional Therapy to Boost Fertility? Nottingham Nutritionist, Cara Wiingar can help you with the correct fertility diet in preparation for pregnancy and to boost fertility. A natural fertility diet is a way of eating that is supporting your body in its reproductive efforts. Wherever you are on your fertility journey, you will benefit from a tailor-made nutrition programme. To find out more, book a free consultation with our in-house Fertility Nutritionist in Nottingham.
Nutritional Therapy and Fertility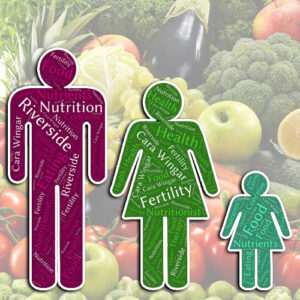 It can be extremely disheartening and stressful when having problems trying to conceive. Infertility can affect both men and women, and the cause of which is currently "unknown". According to the NHS, around 1 in 5 couples may have difficulty conceiving. This is approximately 3.5 million people in the UK alone. It is clear that the healthier you are, the stronger your chances of conceiving. Nutrition is without doubt an important factor when looking at health, fertility and conception.
The nutrients and vitamins that we absorb hugely impact on our overall health and hormone levels. Good nutrition can not just help with conception but is also vital for the health of the developing foetus.
A balanced and nutritious diet may help with:
Production and maintenance of healthy sperm and eggs. Weight management, stress, immune issues, hormone imbalance, assists in effectiveness of other treatments.
When Should I See a Result from Nutritional Therapy?
Results are largely dependent on level of commitment to altering your diet and lifestyle. However, once healthier changes have been implemented, you should start noticing and feeling the health benefits within 3 months (on average). With every couple facing fertility issues, both individuals should address their nutrition, as this largely influences the quality of sperm and egg.
Research Articles: Nutrition and Fertility
The Influence of Diet on Fertility – Lifestyle and fertility – Nutrition on Human Fertility
How to Book with Our Nottingham Fertility Nutritionist?
Before your first consultation, you will be required to complete and return an in-depth questionnaire and 3-day food and drink diary.
Your first consultation may take up to 90 minutes, whereby the nutritional therapist will listen to your areas of concern and your symptoms, and will go through your completed questionnaire and food diary, explaining any links between any deficiencies or imbalances and your symptoms.
Your nutritional therapist will discuss alterations to your diet, and may recommend relevant nutritional supplements if necessary.
Follow-up consultations will look at how you have managed over the last 4-6 weeks after making the recommended alterations.
We will look at how you are feeling compared to your first visit, and whether any further adjustments to your diet, or any further supplementation would be beneficial.
Cara Wingar (Dip. Nutritional Therapy, BSc Psychology) first developed an interest in health and nutrition in her late teens, after overcoming challenges with weight.
Cara went on to receive a diploma in Advanced Sports and Exercise Nutrition before becoming a fully qualified Nutritional Therapist (registered with FNTP). Being a mum herself, Cara understands that fertility and conceiving can be a very sensitive topic, and offers a caring and empathetic approach during consultations.
Help Improve Your Chances of Conceiving.
Working together as a team, Riverside therapists can help improve your chances of conceiving. You can choose to work solely with the nutritional therapist or include Fertility Acupuncture or Fertility Reflexology as part of the process. Read more about Nutritional Therapy in Nottingham
Nutritional Therapy for Fertility £60, up to 90 minutes initial consultation
Follow up appointments £45 up to 1 hour
Cara Wingar is a member of the Federation of Nutritional Therapy Practitioners (FNTP)
Ask about discounted treatments when making your appointment
Do you have a health care policy? Nutritional Therapy may be listed. Call us today
Call us on 0115 9864 990 or Contact Us online